Offering Stunning Pergolas, Arbors, and More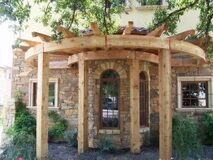 Allen Rustic Wood Designs, LLC Premier Wood Patio Covers, Pergolas & More
A pergola is a patio cover with an open lattice or slatted roof  supported by columns or posts.  Pergolas are not designed to completely block the sun, but to provide relief from direct sunlight, while allowing air to circulate freely. We can customize the slats closer to optimize the shade.  Usually, a pergola is a defined place for gathering.  It can be a patio cover attached to the home or freestanding at a defined area.
An arbor can be large or small and are used in a garden or attached to a home for curb appeal.  Usually, arbors are for a walkway or pass through.
At Allen Rustic Wood Designs, LLC we build all shapes and sizes, large or small.  With our 35 years experience, knowledge and skills, we'll do it right the first time. 
Cedar Pergola On Third Floor Deck
Cedar Pergola With Slats Spaced At 1"
Cedar Pergola With Lattice and Swing
Custom Cedar Multi Level Pergolas and Large Pergola Poolside
Curved Cedar Pavilion With TV Box
Cedar Balcony With Extended Pergola
Western Red Cedar Pergola With Curved Bench, Poolside
Custom Cedar pergola To Fit Curved Wall
Rustic Cedar Pergola, Arched Openings, Spiral Stairs to Deck
Rustic Cedar Arbor Half Circle
Cedar Pavilion By the Pond